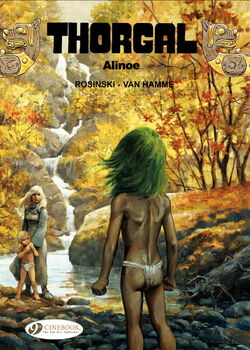 Alinoë
Authors
Publication
| | |
| --- | --- |
| Date of publication | 01/02/1985 |
Thorgal and his family now live on an island, far away from other people. Before the winter Thorgal goes to the main land for some supplies, he'll be away for two days, maybe three. Meanwhile Jolan would like to have a friend to play with. And one day one appears, a boy with green hair...
1] Desiring " vivrent away from men " (see end of the album 6) Thorgal and Jolan Aaricia settled on a small island without occupants , a few days by boat to the mainland. Food is exhausted, Thorgal share purchase . 2] Jolan to Aaricia expressed its strong desire to have a friend . Recis adventures of Thorgal Aegirsson
3] The next day, Jolan has its poinget a new bracelet. He explains that this is his Aaricia Alinoe friends who offered him . Aaricia do not think so and punished for having lied . Jolan he wants . 4] Shortly after , Alinoe comes to Aaricia , and hit in the face. Then he disappears. 5] On returning , Jolan Aaricia explains that it was he who imagined to Alinoe and it was he who commanded . But now he regrets and promises not to bring him . Jolan seems to have the power to make things exist with his imagination. 6] The next day, Alinoe is not only still there, but in addition it is beyond the control of Jolan . Fire it home. Quickly, which is on the island is under the control Alinoe , and tries to kill Jolan and his mother.
7] Things go badly when Thorgal finally returns . He removes the ring wrist Jolan and everything finally returns to normal.