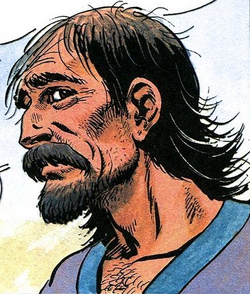 Caleb
Physical description
Relations
Chronological and political information
Image gallery (1)
Head of a peasant village on the Scandinavian coast, Caleb hosted Thorgal and Aaricia in his village. The Aaricia is expecting a child. Caleb distrusts the Vikings, but he understood that the couple does not represent a danger. The horse and arms him Thorgal are also very useful for field work.
One morning, envoys of the powerful master Brek Zarith, Shardar come inspect the village. They pursue a fugitive. Caleb's daughter, Shaniah says while Thorgal is complicit in the missing man, and he hit it to shut up. Surprised and shocked, see Caleb Thorgal be taken by the men of iarl Ewing.
Some time later, Ewing returns to the head of a small band of mercenaries. He wants to remove Aaricia, but the woman managed to escape. The village was destroyed and its inhabitants, Caleb, are massacred without understanding why. Without knowing that jealousy Shaniah is responsible for their misfortune.[1]
References
Edit