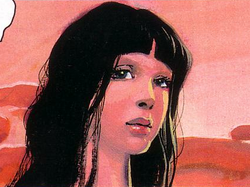 Guardian of the Keys
Physical description
Relations
Chronological and political information
Image gallery (5)
The Guardian of the Keys governs the Second World. She is not a goddess, nor an inhabitant of Midgard. She is immortal and invincible thanks to her magic belt. This belt is also her only garment. She has mighty powers, mainly an ability to open and close doors between worlds. She can also shape the Second World as she wishes. The Guardian of the Keys is in love with Thorgal, and helps him many times.
Biography
Edit
It is not known to whom the Guardian of the Keys was born, where she is from, her name, or who gave her her role and her power. She has always been in the Second World alone, immortal and invincible. This has in turn made her vulnerable and mortal. She upholds The Law of the Worlds. If she were to disappear, the passages in the Second World would no longer be guarded, and the universes would collide, the dimensions would crumble and chaos, apocalypse and the end of creation would ensue. [1]
References
Edit
Community content is available under
CC-BY-SA
unless otherwise noted.