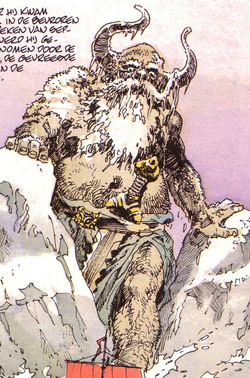 Hrun
Physical description
Chronological and political information
Hrun is a giant, and the undisputed master of the ice fields in the desolate iced confines of the North.
Biography
Edit
Hrun was exiled to the iced confines of the North by Odin. As a result, he roamed the ice fields looking for ways to feed his deadly hatred towards the inhabitants of Asgard. At one time Hrun caught the god Vigrid as he was crossing the ice fields. Not wanting to kill Vigrid, Hrun instead permanently blinded him by blowing a cold breath onto his face causing his eyes to freeze over. This satisfied Hrun's cruelty, and he abandoned Vigrid in the icy waters deprived of sight.[1]
Personality and traits
Edit
As a result of being exiled by Odin, Hrun has extreme hatred towards Gods and will punish any he comes across. His breath is extremely cold.
References
Edit