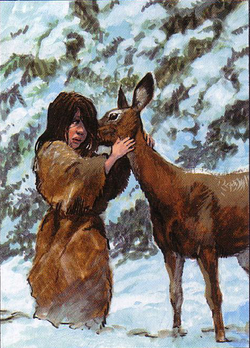 Louve
Physical description
Relations
Chronological and political information
Thorgal and Aaricia daughter. Louve doesn't seem to have the powers of her brother Jolan, but she's got the ability to communicate with animals.
Biography
Edit
Louve was born in Northland, and is 6 years younger than her brother Jolan. As her mother gave birth to her, she was being pursued by one of Thorgal's enemies, so she took shelter in the cave of a she-wolf, who was giving birth to its children as well. As Louve grew up, it became clear that she could talk with wolves, and was obeyed by them. Louve has grown up without her father, for he went away in a try of keeping danger away from his family and, after losing his memory, was fooled by Kryss of Valnor into being her husband, the evil pirate Shaigan the Pityless. By command of Kriss, both she and her mother were kidnapped, but Jolan freed them, living all together alone in a small island, planning how to recover Thorgal.
Personality and traits
Edit
Louve is kind of quiet and secluded. However, she knows when to intervene with courage when necessary.
Louve has the power to talk to animals.