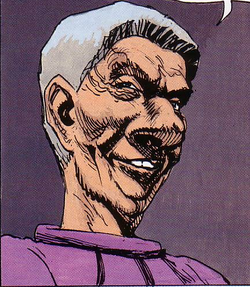 Sargon
Biographical information
Physical description
Relations
Chronological and political information
Sargon was the contarque of the last expedition to Earth.
Biography
Edit
Sargon appeared only in "The Kingdom in the Sand " ( 26 album ) . With a few thousand members of the People of the Stars , he tried to win the Earth aboard a huge spaceship. He survived with a few others to a meteor shower while fleeing on board a small shuttle. At the head of the little colony , he wanted to reclaim the Earth. He ordered Tiago and Chrisyos , two young people , to bring him a family of barbarians because they came from the north , the family of Thorgal . They succeeded but Sargon , ruthless, punishing Tiago who revealed that he was saving Louve quicksand with an anti -gravity belt. Sargon all happy with his cruelty with the document
The draft Sargon was to use the Vikings whose capacity could ideally serve its plans of conquest . He passed Thorgal and his family under a machine which revealed their memories. The son of Varth ! Astonished, the proud Sargon took this as a sign of destiny. The cunning sought to press the hero through his right arm Orchias a great lout , threatening his family. Sargon who knew the memories of the eternal rebel Thorgal was very full of himself and his power to think he could handle such a man. Thorgal blackmail refused and fled. The tyrant still tried to convince the hero and told him the whole story of his people who had actually Earth ... the Atlanteans . Thorgal but refused again. Sargon condemned the Labyrinth with his family , and Tiago Chrysios . Ileniya joined them. The girl was protected from the tyrant who had chosen to bear his offspring . Apparently not pleased with this news, Ileniya injured the tyrant and joined the others . This little world is pulled "easily" Labyrinth supposed to be a fatal event. Chrysios finally put an end to the ambitions of Sargon and Orchias sacrificing himself to kill them by destroying their space shuttle had just taken off . Sargon left for dead
Personality and traits
Edit
Sargon was a small man forged a certain age, brushed hair and with a huge nose.