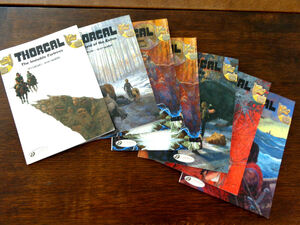 Thorgal is a critically acclaimed[1] Belgian comic book series created by the Belgian writer Jean Van Hamme and the Polish graphic artist Grzegorz Rosiński. It first appeared in serial form in the "Tintin" magazine in 1977, and has been published in hardcover volumes by Le Lombard from 1980 on. The Thorgal series with its bright plot that mixes science fiction, fantasy and adventures and very beautiful art, has won several prizes over the years.
Artwork:
Coloring:
Story:
The albums consist of several story arcs (marked with color) and some stand-alone stories.
Translation
Edit
The original language of Thorgal is French. It has been translated into the following languages (not a complete list, please add):
English publication
Edit
Thorgal was first published in English by Donning Company Publishers in 1986.
Cinebook Ltd has begun reprinting the series in 2007.[2] Unfortunately they've printed the series in the wrong order and numerous albums have been collected into single volumes. An employee of Cinebook Ltd explained the confusing decision as being a response to "customer feedback":
Regarding the volumes versus stories thing, this change was in response to customer feedback. Personally, I think I prefer the double-albums, but it is a bit harder to get people to pick up the first volume when it costs that little bit more. Also, it means we can translate and publish them faster. So, you get less, more often.

- CaNNoN_FoDDa[3]
The current volumes released by Cinebook Ltd are:
Censorship
Edit
Cinebook Ltd's English publication of Thorgal is marred by censorship. Panels with nudity are altered so that nipples among other things are covered up. An employee of Cinebook Ltd had this explanation:
"We do censor some of the imagery in our books. There are some restrictions on what we can publish, particularly in the US, in terms of adult content. Mainland Europe are much more liberal about these things than the UK or US and, in the US, if we were to publish some scenes of nudity in one book we would run the risk of distributors dropping us completely. In order to reach the largest audience possible, we have opted to censor nudity (by adding clothes, steam, hair...) with the consent of the right-holders (usually including the artist).
The boss does have a vague idea to create an imprint for adult titles, but we want to concentrate on getting books to the widest possible audience for the moment."
...
"We're not censoring for the sake of censoring - I think we'd all prefer to keep the original art. But if it's a choice between getting distributed and making a few small changes to elements not key to the storyline, it's a bit of a no-brainer. You have to be looking for it to notice it (or compare the original)."
- CaNNoN_FoDDa[4]
The following issues have been censored by Cinebook (not complete list, please add!):
References
Edit
Community content is available under
CC-BY-SA
unless otherwise noted.