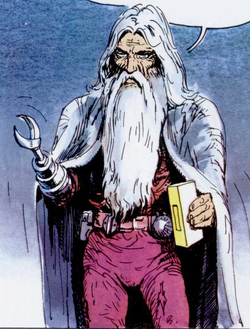 Xargos
Biographical information
Physical description
Relations
Xargos, aka Tanatloc, is the grandfather of Thorgal. He was part of an expedition to conquer Earth, but after a dispute with Varth shortly before arriving, he only landed with a smaller vessel. Xargos landed in Northland, where he established himself as an oracle and remained for a few years. It was there that he met his great-grand-son, Jolan, for the first time.
Xargos then went to the Land of Qa, where he called himself Tanatloc, to help the Xinjin resist the fury of Varth. Varth had previously gone to the Land of Qa, but had called himself Ogotai, and used the Chaams tribe to try to gain control of Earth through mass conquest. Xargos taught the Xinjin to work the dry dessert soil and also gave them weapons and flying vessels, and thus they were able to remain a free people. However, over time, as Xargos became more and more frail due to his old age, he was largely kept hidden from the local Xinjin population.[1]
Once Xargos' goal was reached, and after teaching Jolan basic control of his powers, he died peacefully.
References
Edit